Unlike the cheese eating surrender monkeys internationally known as the French, most of us sadly work more than 35 hours a week, and do not count eight weeks of vacation as a job perk. This I would imagine directly correlates to the fact that they are enjoying soufflés, cassoulets and spicy bouillabaisse dishes on a random Tuesday evening, when most of us are sifting through take out menus. And while I do enjoy takeout, although probably far less often than most, there are some pretty good reasons to cut back on the habit, heart failure falling somewhere near the top of the list, and the contents of a chicken McNugget trailing shortly behind.
Yet there are a number of obstacles that make cooking a challenge, such as limited time, a strict budget, or a drinking habit that makes extensive use of knives an unwise decision. So the below is a recipe for a simple one pan roast chicken with root vegetables. I was home alone this night so I used a 20oz
Poussin
, but if feeding more than one person it makes sense to seek out a small
three to four pound organic chicken
. And if you are one of a large number of people intimidated by the concept of cooking a whole chicken, look yourself in the mirror and repeat "I am scared of a chicken" until you are thoroughly embarrassed enough to try the below.
Simple Roast Chicken
Small to medium sized bird
a handful of small white potatoes per person
olive oil
herbs
salt and pepper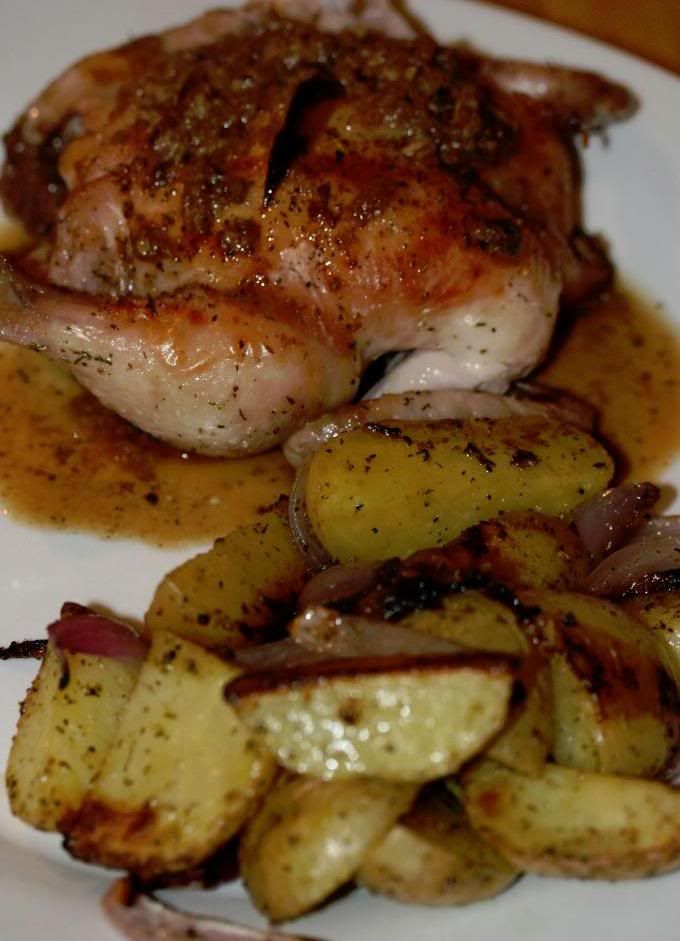 Preheat the oven to 425. Rinse, pat dry, and proceed to
truss
the chicken, (the link is a great video on how to do this). Placing it in the middle of a frying pan, and seasoning with herbs, and S&P. Make sure to do this from high above, to assure that they are evenly spread. Slice the potatoes into halves or quarters, and lightly toss the potatoes in olive oil, herbs, and S&P, before spreading around the outside of the bird. Roast for 30-45 minutes, depending on the size of the bird. The internal temperature should reach roughly 160 and the skin should be a golden brown. If the skin appears to be darkening quicker than desired, cover the bird in tin foil. When the bird is done, plate the potatoes and move the chicken to a cutting board to rest. In the meantime, using an oven mit, move the frying pan to the stove-top on medium heat, add some white wine, or water, scraping the bottom and reducing to form a sauce, adding sliced mushrooms if desired. Slice and plate the bird alongside the potatoes and cover in the thickened sauce. Serve.
This was a woman's out of town kinda night, so I ate it with scotch....lots of scotch.